The University of North Texas Libraries are proud to unveil Mean Green Mapped!
Mean Green Mapped is an interactive web map utilizing GIS software to illustrate UNT's history through photographs and other media. Using historic maps, aerials and photographs, we seek to generate interest in the resources available at UNT Libraries and to commemorate UNT's 125 years of service to students and community. By creating this project, we also hope to show the benefits of GIS services in the library.
Using the ArcGIS Online platform, visitors will interact with a web map to see points of buildings, both existing and historic, in their place in time. Wherever possible, historic photographs, modern photographs, and a handful of architectural renderings provide the context for a dynamic campus. For example, it is interesting to think about campus culture (and clothing) by comparing one photo of a "dorm mother" from Bruce Hall in the 1940s to contemporary campus life. Using the time slider, the web map is set up so that viewers can watch campus change in two year increments. Historic maps dating back to 1891 complement the photographic history by putting campus in its place. This Sanborn map of Denton from 1917 is just one of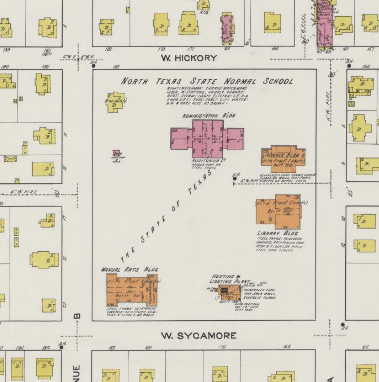 several early maps included in Mean Green Mapped. We have maps for more or less every decade, except for the years around the Great Depression and WWII. Some maps are not included in the web map because they were drawn at an oblique angle and, thus, cannot be manipulated to fit well into a GIS system.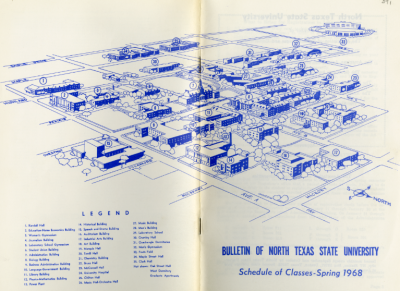 The Bulletin from 1968, at right, is a perfect example of a great mapping resource… that we cannot easily put on the web map.
Another purpose of Mean Green Mapped is to make history fun and interesting. For example, did you know that UNT owns a former Nike nuclear missile base? While the Cold War ended before most current undergraduate students were born, the vestiges of that period of time are still around, sometimes in unexpected ways and places.
By the time you've read this, the first round of Mean Green Mapped has now gone live. There are many, many more resources that could have been incorporated. However, we wanted to get this first round up for you — the UNT and north Texas community — to use and, as a not-so-secret hope, to contribute some of your own photos and memories. It's a proven fact that the more contributions we have, the more interesting Mean Green Mapped will be!
Tell Us More: If you have photographs or stories you would like to share, please contact: gis@unt.edu
In the meantime, we will continue to explore and expand resources as they are identified. We also acknowledge that there may be gaps in the data or conflicting information based upon currently identified data. While every effort was made to ensure accuracy of data, the quality of information varies and accuracy cannot be guaranteed. After all, history itself is imperfect. Therefore, this project is intended to be a living document that brings together the collective resources of the UNT Libraries, alumni and the Denton community. For example, in the next phase of the project, one element we would like to include is music samples to enrich the photography and maps we already have. UNT has a world-renowned music program, notably jazz, which is integral to UNT's identity.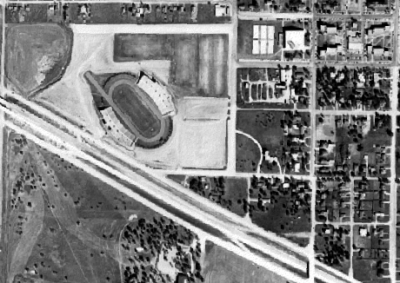 Mean Green Mapped did not happen by itself. Historical information, data, maps, and photography have been provided by the UNT Libraries. A special thank you goes to the UNT Libraries Special Collections team for providing access to archival materials. Denton County provided historic aerials from 1958 (see image of the newly built Fouts Field and I-35E), 1964 and 1990; TNRIS provided historic aerials for X years; the USDA NAIP program provided contemporary aerials. The UNT Libraries Digital Projects Unit provided assistance by digitizing archival materials, which will be made publicly available on the Portal to Texas History. Modern photography has been provided by UNT's Division of University Relations, Communications and Marketing (URCM). Hardware and software support has been provided by UNT Libraries Technology and Computer Operations (Lib-TACO) and UNT Facilities. Support for Mean Green Mapped has also come from a 2015 Green Light to Greatness grant award.
Resources
La Forte, Robert S., and Richard L. Himmel. Down the corridor of years: A centennial history of the University of North Texas in photographs, 1890-1990. 1st ed. Denton: University of North Texas Press, 1989.
Rogers, James L. 2002. The story of North Texas: From Texas Normal College, 1890, to the University of North Texas system, 2001. Denton: University of North Texas Press, 2002.
"The Portal to Texas History." University of North Texas Libraries. Last modified September 29, 2015. http://texashistory.unt.edu/
"University Libraries." University of North Texas Libraries. Accessed October 09, 2015. http://www.library.unt.edu/
"University Relations, Communications & Marketing." University Relations, Communications & Marketing. Accessed October 09, 2015. http://urcm.unt.edu/
Article by Douglas Burns