As in many other locations, the turnout for early voting in Denton County reached a record high this election season. You still have one more chance to vote in the year's presidential election, but time is running out! Polls in Denton County are open on November 8, 2016 from 7 a.m. until 7 p.m.
If you don't live in Denton County, but would like to know where to vote or have other questions about the November 8 election, go to voteplz or the Federal Election Commission Election Day Links for information.
Where to Vote
The voting locations for Election Day are different from those for early voting. If you vote today it must be in the polling place designated for the precinct where you are registered. If you don't know where your polling place is, go to the Denton County Elections Administration's Election Day Polling Sites database to look it up by your voter name and birthdate or by the address where you are registered.
Bring Your ID
Be sure to bring an acceptable form of ID to the polling place. If you don't have an approved form of identification you still have some options, but read the rules carefully and call the county elections office for clarification if you are still not sure about them.
Any Special Needs?
On September 1, 1999, when House Bill No. 1053 of the 76th Legislature went into effect, Texas became the first state to require that all new voting systems be accessible to voters with disabilities and provide a practical and effective means for voters with disabilities to cast a secret ballot. When you go to the polls in Texas, your polling place will be expected to meet strict accessibility standards. You can even have someone bring your ballot out to your car if you have difficulty walking or standing. It is recommended that you either bring an assistant with you or call the polling place ahead of time to make sure the officials are expecting you.
If you don't speak English, or only speak sign language, you are allowed to bring an interpreter with you to the polling place.
For more information, see the Voters with Special Needs page at VoteTexas.gov.
Don't Be Misled
Be aware that there are some people putting out false information and engaging in other deceptive election practices and voter intimidation tactics in order to keep potential voters away from the polls. For example, they may try to persuade you that you can text or tweet your vote, or they may try to prevent you from entering the polling place if you don't have a photo ID. Some advertisements may contain misleading information about the date of the election.
Election Day is November 8, 2016 and ends at 7 p.m., and you cannot vote in the November election after that day. Even if you are mailing in your ballot, it must be received by 7 p.m. on election day. (As long as you arrive at the polling place by 7 p.m., you should be able to vote. Only overseas voters, such as those in the military, have a few days to mail in their ballots.)
If you have problems voting and suspect election fraud, there are several voter protection resources to help you.
Watch the Returns with Us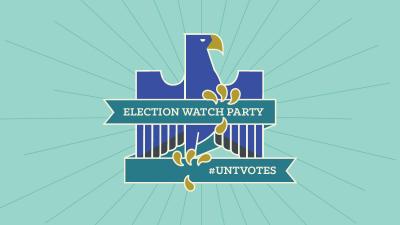 The UNT Libraries Government Information Connection will be sponsoring an Election Returns Watch Party after the election. Join us in the Willis Forum to watch election returns as they happen. Bring your homework and order a pizza — we think it's going to be a long night!
When
Tuesday, November 8, 2016 — 6:00 p.m. to 11:00 p.m.
Where
Willis Library Forum (Room 140)
Contact the UNT Government Information Connection for more details.
Do You Want to Know More?
If you have any questions about voting on Election Day, call the Denton County Elections Administration at (940) 349-3200, or visit one of the following Web sites:
Election Connection (UNT Libraries)
Election Day Voting (Denton County Elections Administration)
VoteTexas.gov (Texas Secretary of State)
Texas Elections Division (Texas Secretary of State)
Election Day Links (Federal Election Commission)
Article by Bobby Griffith.
Albino Squirrel Vote Button and "Election Watch Party" image from UNT Government Information Connection Web page.