Summer is a popular season for vacations, both of the body and of the mind. In addition to visiting the most popular, exciting, relaxing, or inspiring physical destinations around the globe, we can visit—through the magic of the author's art working upon our own vivid imaginations—places that might otherwise be inaccessible because they are of another time, are in a place too far for us to reach, or are purely imaginary.
Literary maps can orient us to the real-world geographical locations associated with our favorite authors and their works, as well as to the imaginary places they might write about so vividly that it's hard to believe they don't actually exist somewhere. Perhaps you would like to visit the house where Shakespeare was born, follow Huckleberry Finn's journey down the Mississippi, or imagine yourself spending some time in Gabriel García Márquez's Macondo, James Branch Cabell's Poictesme, Lewis Carroll's Wonderland, or even Dante's Inferno.
Literary Maps at the Library of Congress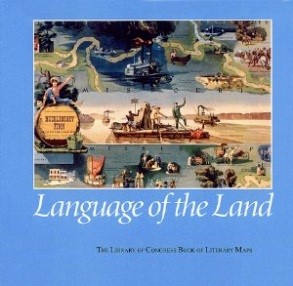 The Library of Congress has more than 200 literary maps in its Geography and Map Division.
A selection of these were featured in an exhibit called Language of the Land: Journeys into Literary America, and the entire collection has been listed and described in a fully annotated cartobibliography called Language of the Land: The Library of Congress Book of Literary Maps. (View the Language of the Land cartobibliography online at HathiTrust.)
An article by Martha Hopkins, adapted from her introduction to this book, describes the nature, types, and purposes of literary maps.
Classroom Maps by Barbara Rogers Houseworth
Barbara Marie Rogers Houseworth was a brilliant but under-appreciated Indiana artist who was commissioned during the 1950s and 1960s to create a series of maps to aid in the appreciation of several classic works being taught in high school English classes. In addition to showing geographic locations mentioned in these works, the maps feature vignettes that illustrate key scenes in the story. The UNT Libraries own her maps to accompany Homer's Odyssey [view also Barbara Houseworth's Odyssey map online] and Vergil's Aeneid. Other maps she created include the following:
William Shakespeare's Macbeth and Julius Caesar
Homer's Iliad
Charles Dickens' A Tale of Two Cities
George Eliot's Silas Marner
Henry Wadsworth Longfellow's Evangeline
Herman Melville's Moby-Dick [see also Everett Henry's map of the Voyage of the Pequod]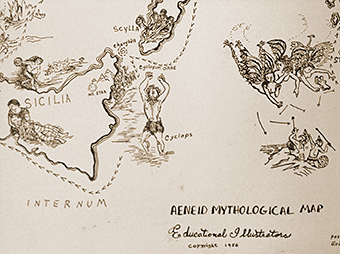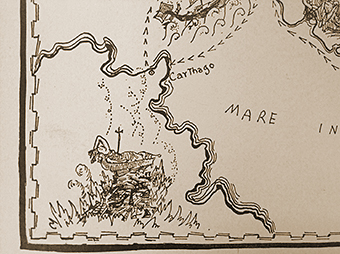 Nathaniel Hawthorne was born in Salem, Massachusetts, spent much of his life there, and wrote about Salem's history, culture, and landmarks in some of his most well-known works. With the aid of this pamphlet you can learn about Hawthorne's life and career while you take a walking tour through Salem and visit Hawthorne's birthplace at 115 Derby Street; the Custom House, where he worked for several years; the Turner Mansion (better known as "The House of the Seven Gables"); Gallows Hill, where many accused of witchcraft were hanged; and many other historical venues. You won't find Hawthorne's famous homestead The Old Manse here, though, because that's in Concord!
You can also view Nathaniel Hawthorne's Salem at HathiTrust.

Carl William (Bill) Polvogt, Jr. was a commercial artist and cartoonist who was living in Dallas, Texas when he created this whimsically illustrated guide to John Bunyan's brilliantly original but dour Christian allegory in the mid-1950s. Polvogt was no stranger to drawing maps—while attending the University of Texas at Austin, he created a humorous promotional map of the UT-Austin campus, which was sold at Hemphill's Book Store.
Although he deferentially  offered "apologies to Mr. John Bunyan" below his title, someone above was perhaps not pleased, for Mr. Polvogt's advertising firm filed for bankruptcy less than ten years later.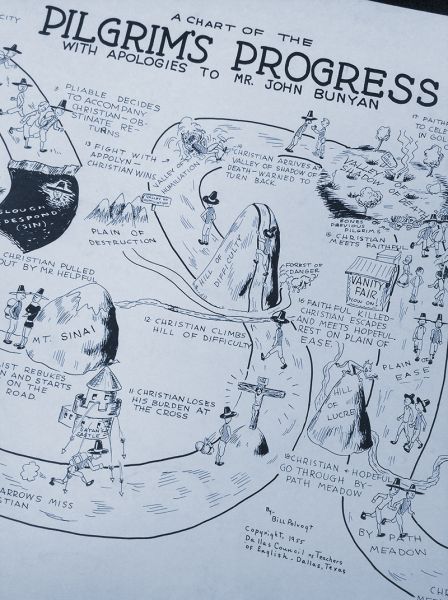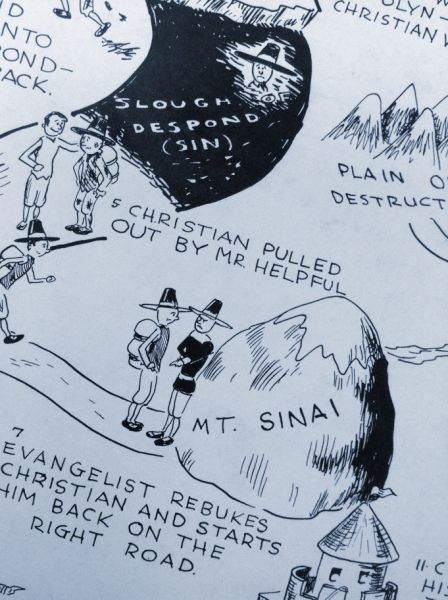 The Land of OZ and its environs have been mapped many times since The Wonderful Wizard of Oz was first published in 1900, but the location and geography of the Land of Oz have always been vaguely and inconsistently portrayed in the books by Frank Baum and others. Is it in a desert somewhere in the American west? Is it a continent in the south Pacific? Is it an allegorical representation of the United States or China?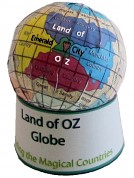 This interpretation by a group of USGS cartographers takes a cue from Baum's Tik-Tok of Oz—where the character JinJin is said to live in a land that lies on the opposite side of the earth from Oz, accessible through a Hollow Tube—and depicts Oz and the surrounding countries on a symmetrically interrupted sinusoidal projection that can be cut out and assembled around a tennis ball to create a three-dimensional globe.
The globe was published in the Spring 1997 Oz Gazette, accompanied by an article that teaches children about maps and map projections.
A brief article about the globe entitled "Off to See the Wizard? Here's Your Map" appeared in the Virginian-Pilot newspaper on the occasion of the 70th anniversary of the 1939 film The Wizard of Oz.
To download a copy of this cut-and-assemble educational toy, go to the USGS Store at https://store.usgs.gov and search for "Land of OZ."
Interactive Online Literary Maps
These online maps can be used to explore the literary heritage of various specific geographic locations, as well as to explore the geography of some of your favorite works of literature.
These are just a few of the many literary maps available in the UNT Libraries Map Collection or on the Internet. Maybe one of them will inspire your next vacation!
Article by Bobby Griffith.