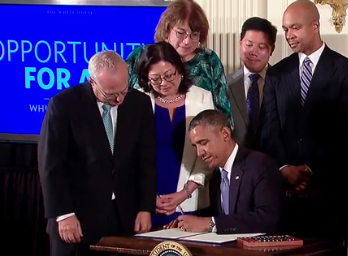 It doesn't make much sense, but today in America, millions of our fellow citizens wake up and go to work with the awareness that they could lose their job, not because of anything they do or fail to do, but because of who they are — lesbian, gay, bisexual, transgender. And that's wrong.
So spoke President Obama on Monday in the remarks he gave before signing Executive Order 13672, finally fulfilling a campaign promise made in 2008.
Discrimination among Federal Contractors Prohibited
In 1965 President Lyndon B. Johnson signed Executive Order 11246, which prohibits federal contractors and subcontractors and federally-assisted construction contractors and subcontractors that generally have contracts that exceed $10,000 from discriminating in employment decisions on the basis of race, color, religion, sex, or national origin. President Barack Obama amended this order to add sexual orientation and gender identity to the list of protected classes.
Discrimination in Civilian Federal Workforce Prohibited
Obama's order also amends Executive Order 11478, signed by President Nixon in 1969 to prohibit discrimination in the civilian federal workforce on the basis of race, color, religion, sex, national origin, handicap, and age. President Clinton had already amended this order (in Executive Order 13087) to include sexual orientation in the list of protected classes, and later signed Executive Order 13152 to add the category of "an individual's status as a parent," as well as a detailed definition of that new category. Obama's order adds gender identity to the list of protected classes.
Religious Exemption
Obama's order keeps intact an amendment signed by President George W. Bush that allows religiously-affiliated federal contractors to give preference in hiring to members of their own religion, but adds no new religious exemptions, as some constitutional law professors and religious and civil rights organizations had feared might happen in the wake of the recent Hobby Lobby decision by the Supreme Court.
Discrimination in the General Workforce
Several bills have been introduced in Congress that would prohibit discrimination on the basis of sexual orientation in all workplaces, not just federal, but so far none has passed. The most recent, the Employment Non-Discrimination Act of 2013 (S.815), has passed in the Senate, but not in the House of Representatives.
Would You Like to Know More?
Learn About Executive Order 13672
·         Read the full text of Executive Order 13672
·         Read a transcript of the President's opening remarks
·         Watch the signing ceremony on YouTube
·         Read a White House fact sheet explaining more about this executive order
Learn About Executive Orders
An executive order is an official document issued by the president to manage the operations of the federal government.
·         Learn about the executive order process and how to search for and read an executive order at the National Archives and Records Administration (NARA).
·         Browse all executive orders from Abraham Lincoln to the present at the American Presidency Project.
·         Learn How Executive Orders Work at HowStuffWorks.
Image from White House video of the signing ceremony.
Article by Bobby Griffith.