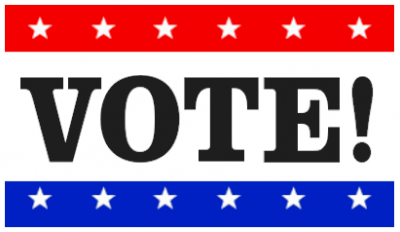 Are you concerned about the economy, climate change, energy sources, gun control, violence involving the police, health care, privacy, data security, education, immigration, foreign policy, racism, religious freedom? In the coming months you will have an opportunity to make your voice heard by questioning, supporting, and electing the government officials who will be making decisions about how to deal with difficult and controversial issues such as these.
After several months of debates, interviews, and a few primaries, the campaigns for many candidates will reach a critical point on Super Tuesday, the day that most state primaries are held. This year Super Tuesday falls on March 1. In anticipation, we offer some information and advice to help you prepare for these crucial events.
Register
You must be registered at least 30 days prior to any election in which you plan to vote. To vote in the Texas Primary on March 1, you would have to have registered by February 1. If you are not registered yet, don't despair—you can register at any time and vote in any election that takes place at least 30 days later. As long as you register by October 11, you will still be eligible to vote in the November general election.
You can register to vote in Texas at your county voter registrar's office. Three deputy voter registrars are also available at the UNT Libraries: Julie Leuzinger in Willis Library, and Robbie Sittel and Bobby Griffith in the Eagle Commons Library in Sycamore Hall. You may also obtain a voter registration application online, fill it out, and mail it to your local county voter registrar.
Student voters may be uncertain about where they should be registered, since many have a family residence at one location but are living temporarily at or near the campus where they attend school. In general, you should be registered to vote in the county you consider to be your permanent residence. If you consider your parents' address to be your permanent residence, you may register to vote in that county. If you would like to register to vote at your college address you may do so, but you can't be registered at both places at the same time. If you're registered in Texas but won't be around to vote in person, you may vote early by mail. If you're registered in another state but live in Texas, you might be able to switch your registration to the Texas county where you currently reside; otherwise, ask the election office in your state about their absentee voting policies.
If you're not sure whether you are registered to vote, you can search the Texas Voter Registration database or, if you might be registered in another state, search the Can I Vote database.
Educate Yourself
As James Madison once wrote, "A popular Government, without popular information, or the means of acquiring it, is but a Prologue to a Farce or a Tragedy; or, perhaps both. Knowledge will forever govern ignorance: And a people who mean to be their own Governors, must arm themselves with the power which knowledge gives."  Before attending any election, take time to educate yourself about the parties, the candidates, and the issues, so that you can make a responsible and informed decision. There are many sources of information, not all of which are reliable, and sorting through them can seem overwhelming. Here are just a few Web sites that can help you become an informed voter:
Vote!
You don't have to wait until the official day of an election to vote. Avoid the lines and fit your voting responsibilities in with your busy schedule by voting early on a day that is convenient for you. In Texas you can vote in person any time between the 17th day and the 4th day before election day, and no excuse or special qualifications are necessary. You may vote at any of the designated early voting locations in your county. Early voting for the 2016 Texas Primary takes place from February 16 to February 26. If you are 65 or older, disabled, in jail, or expect to be out of the county on election day, you may vote early by mail.
If you choose to vote on the official election day, you must vote at the polling site assigned to your specific voting precinct. The number of your precinct appears on your Voting Registration Certificate. You can also find out the number of your precinct by calling the Denton County Elections Administration at (940) 349-3200, or by searching the Voter Registration Database.
You don't have to have your Voting Registration Certificate with you to vote, but voters in Texas (except those voting by mail and those with certain disabilities) are now required to present an approved form of photo ID to vote in any Texas election. If you don't have a photo ID, you may request an Election Identification Certificate (EIC) from the Department of Public Safety to use as a substitute. More information about the photo ID requirement is available from VoteTexas.gov.
In addition to the photo ID (which is required) and the Voting Registration Certificate (which is highly recommended), you may wish to bring to the election a sample ballot that you have marked ahead of time to remind you of which choices you intend to make.
Denton County voters are advised to search their names in the Voter Lookup to obtain a convenient summary of just about everything you will need to be an effective and responsible voter:
your personal information, such as address, precinct, and voter ID number
your current elected officials
dates, polling places, and sample ballots for any elections you are qualified to vote in
Would You Like to Know More?
If you have any questions or concerns about voting or the upcoming elections, we are here to help you at the Eagle Commons Library Government Information Connection.
You can also find more information about elections, candidates, and issues at these Web sites:
Article by Bobby Griffith.
Vote Banner courtesy of wpclipart, a source of free, public-domain images.