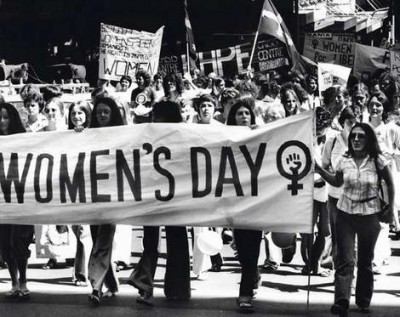 Observations commemorating the contributions of women to society and culture and encouraging support for women's equality and other civil rights first emerged out of the early 20th century labor movement in North America and across Europe. In 1975, which the UN had designated International Women's Year (IWY), March 8 was designated International Women's Day (in commemoration of a major protest held on March 8, 1857 by New York garment workers demanding better working conditions), and 1975–1985 was designated The United Nations Decade for Women. Every March 8 since then has been set aside throughout the world as a day to recognize women for their achievements without regard to divisions, whether national, ethnic, linguistic, cultural, economic or political. (See a Chronology of International Women's Day at the UN Web site.)
Every year the UN designates a specific theme to focus on for International Women's Day. This year's theme is Parity for Women, encapsulated in the slogan "Planet 50-50 by 2030: Step It Up for Gender Equality." 2030 is the deadline that has been projected for achieving the 17 Sustainable Development Goals (SDGs) established last year by the UN. Goal 5 is Gender Equality. The United Nations observance on 8 March, 2016 will consider how to build momentum and accelerate progress toward the 2030 goals, and will also focus on new commitments under the UN Women's Step It Up initiative, as well as other commitments to gender equality, women's empowerment, and women's rights.
Key targets of the 2030 agenda include the following:
By 2030, ensure that all girls and boys complete free, equitable, and quality primary and secondary education, leading to relevant Goal 4 (Quality Education)
By 2030, ensure that all girls and boys have access to quality early childhood development, care and preprimary education so that they are ready for primary education.
End all forms of discrimination against all women and girls everywhere.
Eliminate all forms of violence against all women and girls in the public and private spheres, including trafficking and sexual and other types of exploitation.
Eliminate all harmful practices, such as child, early, and forced marriage and female genital mutilation.
Here are some things you can do to celebrate International Women's Day and contribute to the goal of achieving gender equality:
See the UN Women: International Women's Day 2016 Web page for speeches and messages, an interactive timeline of women's historical contributions, a photo-essay on the lives of women around the world, and opportunities to share your contributions to International Women's Day on social media.
Take the International Women's Day Pledge for Parity. Go online and make a public commitment to help women and girls achieve their ambitions; challenge conscious and unconscious bias; call for gender-balanced leadership; value women's and men's contributions equally; and create inclusive, flexible cultures. A number of online resources are available to guide your Pledge for Parity campaign and help you carry out the goals in a practical manner.
Participate in local events. These might include large global gatherings, conferences, awards, exhibitions, festivals, fun runs, corporate events, concerts and performances, lectures, online digital gatherings, and more. The University of North Texas, for example, will be sponsoring a free International Women's Day Lecture on "Human Rights, Women's Rights: The Path to Sustainable Peace" at 7:00 p.m. in the University Union.
Share your own stories on social media. Do you have a personal experience related to gender equality, or recommendations for public policies? Perhaps you would like to express support and appreciation for women. Hashtags for social media include #IWD2016 and #Planet5050. Consider enhancing your posts and media accounts with infographics, banners, and cover images.
Educate yourself on the subject of women's history. Here are some resources for learning about women's contributions to history and culture in the United States:
On a side note, and in the spirit of gender equality, you might be wondering if there is also an International Men's Day. There is! It takes place on November 19th each year and serves to highlight men's and boy's health issues, improve gender relations, promote gender equality, and recognize positive male role models.
Today, however, is for women. How will you be honoring the women of the world on this special day?
Article by Bobby Griffith.
Image: International Women's Day, March 12, 1977. Photo by David Bartho for Sydney Morning Herald.