The "Year in Review" compilation is a tradition of many news organizations, created as a way to look back on the top stories of the previous year. The earliest "Year in Review" in the WBAP/KXAS archives was compiled from 16mm footage recorded throughout the year 1952.
The "Year in Review" compilations present some challenges to archivists working with this collection. One challenge is description— the majority of early film footage is silent, and we have not been able to locate scripts associated with most "Year in Review" reels. Many of the segments in the reel are then difficult if not impossible to identify.  Another challenge is how to best present this content online for researchers. While most news segments are less than three minutes long, the "Year in Review" reel can be well over 10 minutes in length, making it more difficult to locate relevant footage.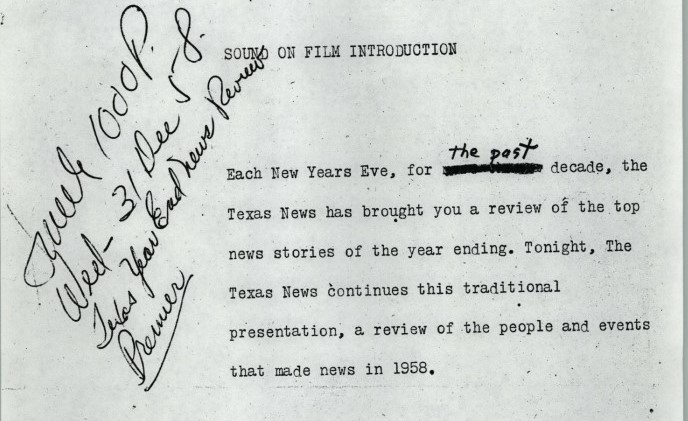 We will continue to experiment with different ways to describe and present this content online, and welcome your feedback and questions.
Year in Review – 1952 (film, 10 min)
Year in Review – 1953, 1954, 1955 (film 27 min, 34 sec)
Year in Review – 1956-1957 (film, 27 min, 34 sec)
Year in Review 1958 (film, 18 min, 15 sec)
Year in Review 1959 (film, 21 min)
Year in Review (News) – 1961 (script)
Year in Review (Sports) – 1961 (script)
Year in Review – 1984 (video, 1 min, 45 seconds)