Every Tuesday, UNT Media Library highlights a title from their growing collection of tabletop games. This week, read about: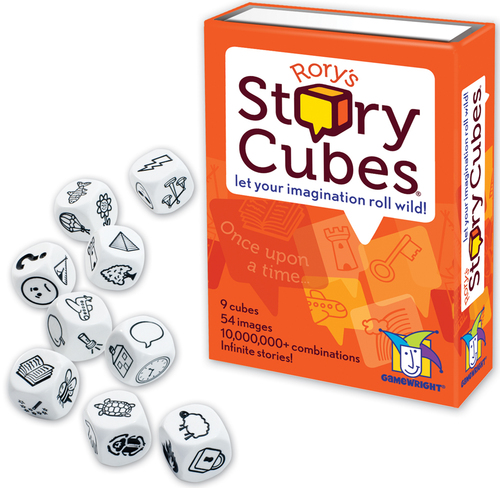 | | |
| --- | --- |
| Number of Players: | 1+ |
| For Ages: | 8+ |
| Duration of Play: | 20 minutes |
When you think about tabletop games, you might conjure up ideas of competition, a target goal, and victory. However, games are not just meant to be won. Games can also fascinate, educate, and entertain. Rory's Story Cubes is a game for storytellers of all ages. Each roll of the story cubes presents a group of images. Let the images drive your imagination as you spin a tale of whimsy, fancy, adventure!
From the publisher:
Rory's Story Cubes is a pocket-sized creative story generator, providing hours of imaginative play for all ages. With Rory's Story Cubes, anyone can become a great storyteller and there are no wrong answers. Simply roll the cubes and let the images spark your imagination!

— Gamewright
If you like Rory's Story Cubes, you may also enjoy these titles, also available at UNT Media Library: