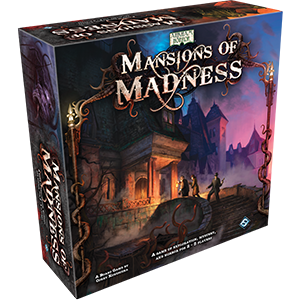 Mansions of Madness Boardgame 275
Up ahead, isolated in the Massachusetts countryside, stands a secluded mansion. This is where the clues have led you. This is where you will finally find the answers you have been seeking. As you advance through the cold, driving rain, the dim light dancing in the ornate windows gives the appearance of a dozen sinister eyes watching your approach. The very walls are infested with evil and the great house seems to stare at you with hostility, but despite the growing fear gnawing at your soul, you press on. You must. This madness has to end, and by God, it will end tonight… even if it kills you.
Spawned from the horrific genius of H. P. Lovecraft, Mansions of Madness is set in the ill-fated fabled town of Arkham, Massachusetts. It is a veritable graveyard with derelict buildings standing like so many tombstones. Through eerie fog, creatures of unspeakable origins loom monstrous, devouring bodies and souls as they roam. Risk your health, sanity, and consequences worse than death as you work against sinister plots in Mansions of Madness.