Every Tuesday, UNT Media Library highlights a title from their growing collection of tabletop games. This week, read about: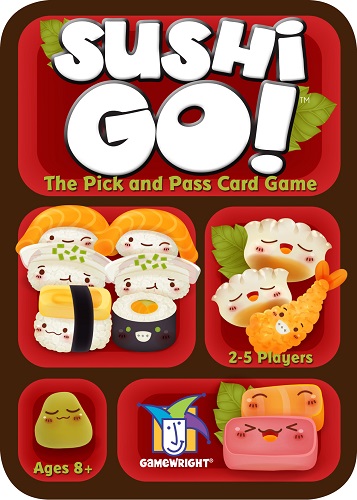 | | |
| --- | --- |
| Number of Players: | 2-5 |
| For Ages: | 8+ |
| Duration of Play: | 15 minutes |
This quick and delicious card game is played in just three rounds. Each player starts with a hand of cards. Everyone picks a card and reveals them together. Then each player passes their hand. The round is over when the last cards are passed. The goal is to score the most points by putting down delectable sets of sushi, shrimp, and dumplings with pudding for dessert! The pudding stays on the table until the end of the game because you eat it – er, score it – last. The most points wins the game. Enjoy!
From the publisher:
Pass the sushi! In this fast-playing card game, the goal is to grab the best combination of sushi dishes as they whiz by. Score points for making the most maki rolls or for collecting a full set of sashimi. Dip your favorite nigiri in wasabi to triple its value. But be sure to leave room for dessert or else you'll eat into your score! Gather the most points and consider yourself the sushi master!

— Gamewright
If you like Sushi Go!, you may also enjoy these titles, also available at UNT Media Library: