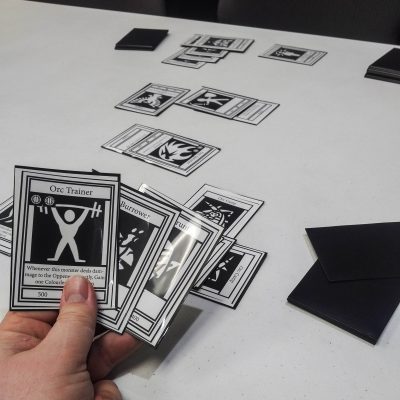 Our Pixels & Pieces programming is in full swing for the year, and with the spring comes our yearly game design contest.
Through the fall and the beginning of the spring semesters, our students work hard to develop games which can be submitted to be critiqued by a panel of community members and professional game designers. Winners of the contest will receive the professional printing of their prototype which can be brought to conventions and shown to producers.
To qualify for the contest, the submitter must be a student or a team consisting of at least one UNT student. The submitter/s must have attended at least half of the meetings leading up to the submission of their game.
This year we had some great designs submitted by some of our talented members. It was a difficult decision between the submissions. In the end, though, only one design can be declared the 2017 Pixels & Pieces Design Contest Winner. That submission is Hoverbike Racing by Jeffrey McCulley!
Hoverbike Racing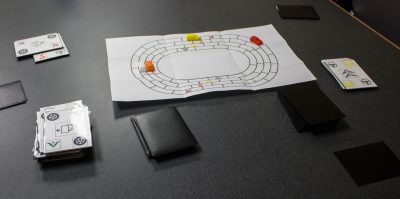 Hoverbike racing is a game less about winning your race, but instead about impressing the crowd. Being fast enough to win the race will score you some points, but as you complete your laps, you must also pay attention to how your opponents are playing, and at times sacrifice speed to perform a trick. Tricks will score a small number of points for the player, but can easily make the difference between finishing first or third moot if the fastest player fails to keep the audience as entertained.
The game is played by playing cards from your hand. Each card can either be used to move the player's hoverbike forward in a lane, to activate a power to tactically effect the game, or to perform tricks by creating sets.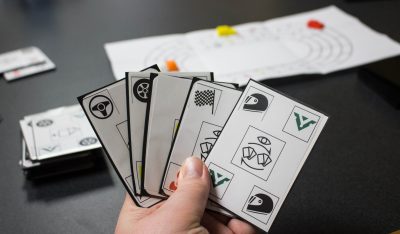 The game ends when the second to last player crosses the finish line. In the meantime, players who have already completed their laps may make a victory lap to increase their favor with the crowd and prevent other players from stalling out to rack up on tricks.
The game currently plays 3-4 players, and takes 20-25 minutes to play.
Congratulations to Jeffrey McCulley! We cannot wait to see what becomes of this game!
Thanks to our judges for their hard work, and the valuable critiques they offered for our designers.
For any of our readers who might be interested, Pixels & Pieces meets most Thursday nights during the school year from 6-8pm. All over the age of 14 are welcome to attend.