Earlier this month we asked you your opinions of your top Disney/Pixar movies, and the results are in. In our single elimination bracket, style tournament the Patrons picked some very interesting choices. I am proud to give you your top four, as well as the top picks from the library staff. Be sure to check these excellent choices out today!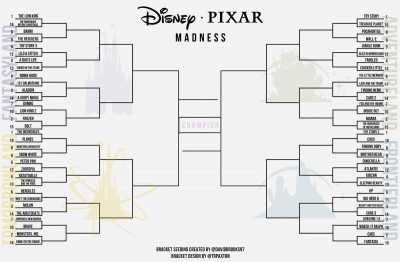 Disney Pixar's Media Library: A-sides

#1: Treasure Planet (2002) DVD 3736
Based off the 1982 film and novel "Treasure Planet". This was Disney's 43rd animated feature film. Ron Clements and John Musker, who had been responsible for "The Little Mermaid", directed this animated science-fiction action adventure. Treasure Planet follows young Jim Hawkins who comes into possession of a mysterious sphere that outlines the map to the location of Treasure Planet, after a spaceship crashes into his mother's inn. Jim joins a ship called the RLS Legacy, on a mission to locate Treasure Planet, commanded by the feline Captain Amelia and a half-robot cook John Silver.
#2: Aladdin (1992) DVD 3402
Another work of John Musker and Ron Clements, Aladdin was Disney's 31s animated feature film, in the middle of the "Disney Renaissance" Aladdin was a critical success of Musker and Clements career. Based on Arab-style folktale of the same name from "One Thousand and One Nights" and starring big names of the time such as the late Robin Williams. Aladdin takes place in the city of Agrabah, as Jafar, the Grand Vizier seeks out the magical lamp deep within the Cave of Wonders.
#3 Mulan (1998) DVD 3825
Based on the Chinese legend of Hua Mulan, Mulan released in 1998 to critical acclaim as Disney's 36th animated feature film. Directed by Tony Bancroft and Barry Cook the film follows Fa Mulan as she enlists in the Chinese army to defeat the Huns with the help of dragon Mushu. During her adventure disguised as a man, she learns to be swift as the coursing river under the direction of Captain Li Shang. Mulan unleashes the force of a great typhoon against the ruthless Hun leader Shan Yu, and uses the strength of a raging fire to protect her emperor and her home. Jerry Goldsmith and Matthew Wilder directed the music with contributions by Danny Osmond.
#4: Tarzan (1999) DVD 7462
Last but not least, is the 1999 animated comedy-drama adventure film Tarzan. Tarzan was Disney's 37th animated feature film, and ended the Disney Renaissance. Based on "Tarzan of the Apes" by Edgar Rice Burroughs this adaptation is based in the mid-1860s as an English couple and their infant end up in an uncharted rainforest following a shipwreck, but are killed by Sabor, a leopardess. Leaving the infant in the care of the local gorilla population.  The story follows his reintroduction to the human world as a team of explorers arrives in the jungle. Headed by Professor Porter, his daughter Jane, and their hunter-enthusiast Clayton.
Disney Pixar's Media Library: B-sides (Staff Picks)
Alice in Wonderland (1951) DVD 5399
Suggested by: Erin Miller, Media Library Head
Coco (2017) DVD 17937
Suggested by: John Pankonien, Student Assistant Supervisor
                        Estela Molina Pena, Student Assistant Supervisor
                        Joshua Dorsey, Student Assistant Supervisor
Mulan (1998) DVD 3825
Suggested by: Kelsey Scott, Cataloging Student Assistant
                        Jeremy Kincaid, Programming and Outreach Assistant
Ratatouille (2007) DVD 8044
Suggested by: Eric Nguyen, Gamer Tech
Tangled (2010) DVD 14687
Suggested by: Benjamin Lyda, Student Assistant
                        Bennet Whalen, Student Assistant
The Fox and the Hound (1981) DVD 3919
Suggested by: Maya Charles, Student Assistant Supervisor
The Great Mouse Detective (1986) DVD 3898
Suggested by: Steven Guererro, Media Circulation Manager
The Incredibles (2004) DVD 4516
Suggested by: Caleb Underwood, Student Assistant
The Little Mermaid (1989) DVD 6091
Suggested by: Laura Treat, Moving Imagine Preservation Librarian
Zootopia (2016) DVD 17109
Suggested by: Sarah Bryant, Assistant Media Circulation Manager
Post by Student Supervisor Caleb Underwood