CDC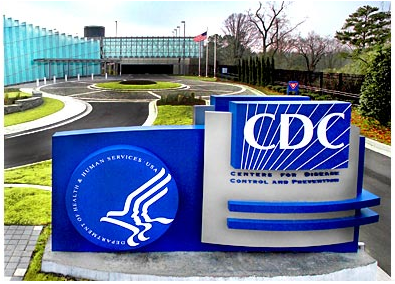 (previously Centers for Disease Control; now Centers for Disease Control and Prevention, but still retaining just the three letters) is the primary federal agency responsible for protecting public health in the United States. Its scientists and other researchers collect data in the United States and throughout the world to track diseases, investigate real and potential outbreaks, detect and minimize germs and other risk factors, and deal with just about every kind of health-related emergency.
CDC WONDER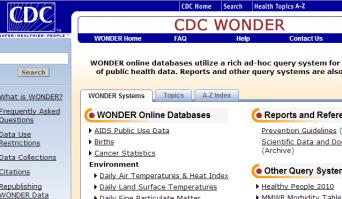 CDC WONDER (the slightly strained acronym is short for "Wide-ranging ONline Data for Epidemiologic Research") is an online public information health system created by CDC.  It provides an integrated, one-stop point of access for the Morbidity and Mortality Weekly Report (MMWR), prevention guidelines, and numerous other CDC reports and guidelines. There is also a vast collection of statistics related to public health.
These are a few of the topics you can find information on here:
Births and deaths, including cause of death
Risky behaviors
Incidents of cancer, AIDS, diabetes, and many other diseases
Hospital discharges
Each data set can be investigated through a system of menus, search boxes, and fill-in-the-blank request forms. When the data is retrieved, it can be viewed online or exported into a word processor, spreadsheet, or statistical analysis program. If you wish to report an error or other problem, need technical assistance, or just want to make a comment, there is a customer support team to help you.
In addition to providing the general public with access to information from the CDC, this database provides fast, simplified access to timely data that doctors, researchers, and administrators can use for investigating public health concerns, setting priorities, making decisions, allocating resources, and evaluating programs.
PHIL: Public Health Image Library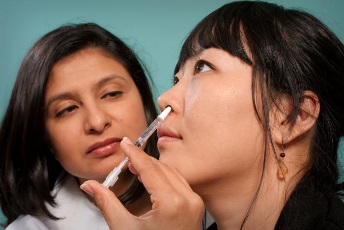 It has been said that a picture is worth a thousand words, and the field of public health is a prime example of an area of knowledge where it is often easier to communicate through images rather than through text. The Public Health Image Library, affectionately known as PHIL, is a central database providing access to CDC's photographs, illustrations, and videos. Public health professionals, journalists, scientists, teachers, students, and authors can all find a wealth of imagery here ready to use in articles, lectures, textbooks, and public health messages.
Images can be searched by keyword, image type, and subject matter. If you really want to get specific, you can also search by date the image was created or uploaded, or by the CDC location, sub-agency, or personnel associated with the image.
Most of the images are in the public domain, although some are protected by copyright. A fair use statement is provided with each image to let you know the copyright status. You can even restrict your search to only public domain products.
Solve the Outbreak

If you'd like to have a taste of what it's like to be a CDC researcher, download the Solve the Outbreak app and see if you have what it takes to be a Disease Detective. This app provides various realistic outbreak scenarios, providing you an opportunity in each case to figure out what is happening, why, how it started, and how it is spreading.  Download the app to your tablet or phone and become the star of your own version of CSI!
Preparedness 101: Zombie Pandemic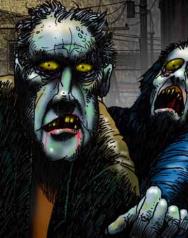 Zombies have been all the rage for several years now in movies, TV shows, comic books, and other popular media. CDC has prepared an emergency preparedness campaign around the theme of a zombie apocalypse, using humor to engage audiences and deliver a message of deadly serious import. It's an unlikely event to say the least, but if you're prepared for a zombie apocalypse, surely you'll be prepared for anything!
Here are some downloadable zombie products to help teach emergency preparedness:
[Update: The CDC "Preparedness 101: Zombie Pandemic" campaign was retired in 2021. You can still learn how to prepare yourself and others for various emergencies and disasters by visiting the Prepare Your Health website at http://www.cdc.gov/prepyourhealth.]
Would You Like to Know More?
These products provide barely a glimpse of the rich treasure available from CDC. Here are a few more examples of the plethora of informative and entertaining products available on the CDC Web site:
To learn more about health in the United States, visit HealthData.gov for information about  Medicaid, Medicare, drugs and other treatments, biomedical research, safety, health-care administration, health-care costs, and much more.
Illustrations: images of CDC headquarters, PHIL sample image, Disease Detective badge, zombie apocalypse illustration, and CDC WONDER opening screen courtesy of CDC Web site.
Article by Bobby Griffith.