Every year, the UNT Libraries are graced with numerous patrons and donors that drive our work in supporting the student community in more ways than we can count. Bi-weekly, here on Contribution Corner, we will acknowledge one patron by exploring one of their donated games or movies. This week, our game of choice is:
Vault Wars, Floodgate Games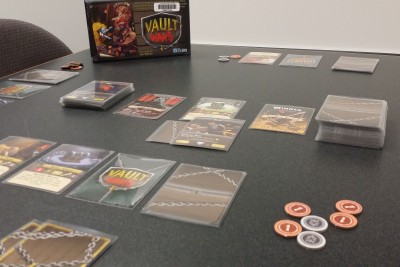 Let us start from the beginning. Fantasy worlds are overloaded with adventurers seeking to advance themselves within society. This leads them to do three things. They kill monsters, they loot hordes, and inevitably they die. This leaves an abundance of chests and vaults behind filled with loot, and no one to pay the storage cost. Vault Wars picks up here. In this new title by Floodgate Games, the players take on the roles of up-and-coming adventures attempting to get a jumpstart on adventuring by making money and collecting equipment through buying these vaults, and selling the goods within. The mechanics of the game succeed in mimicking the feel of Storage Wars, a TV show from A&E. Each player takes a turn opening and leading an auction for a vault as each other player bids on it. The winner pays the auction master, or the auction master pays the bank. Then the vault contents are used to equip the character, store for victory points, or sell to fund buying more vaults. If a player begins to run out of gold, they can visit the loan shark, but doing so will reduce their victory point total at the end. Once all of the vaults have been sold, players tally up victory points to determine the winner. This Game is a great addition to the UNT collection and definitely one you should check out. Its creative use of an auction mechanic to explore a different side of RPG adventuring makes Vault Wars an interesting and fun experience all around. During our play through, each player used a different tactic based on availability of items and our hidden character cards, yet each tactic held its own viability for victory. This ultimately left each player, both hardcore gamers and casual gamers alike, feeling that victory was within their grasp until the end. The theme was immersive and led to deep interactions between players, each trying to read and outplay each other to gain the vaults for the most profit. We would like to thank Floodgate Games for this donation, and their support of the UNT Libraries as a whole. If you would like to give Vault Wars a try, it is available for check out here, at the UNT Media Library. Keep an eye out for more Floodgate games to come in the future.