Old Casey Jones steps up to bat. It's been years since he first retired, but his new cybernetic arm is doing great, and his cybernetic eye has increased his reaction speed seven-fold. Once again the bases are loaded, and he was better now than he ever was in his early years. Hitting a grand slam would be easy enough if it wasn't for that darned robot pitcher the other team had drafted just last season. His knuckleball is brutal, especially since he doesn't even have knuckles. Casey grits his teeth and squares his shoulders as he winds back, ready for the pitch. Maybe coming back to the Major Leagues wasn't the best idea after all.
This week we played Baseball Highlights 2045 from Eagle-Gryphon Games.
Taking place in the year 2045, baseball has evolved. Now allowing cyborg enhancements and robots to play, pitching has become an act of science, and batting requires fast computing or intuition than skill and a good eye. Fans still love it though, and the technical skill of fielding is still a "natural's" game.
Choose your starting team, and play ball! In between each individual game of 6 innings, each player has the option to draft new players for their roster, sending older players to the minor leagues to make room on the bench. Each player's team evolves from game to game, allowing for new and interesting plays late in the series.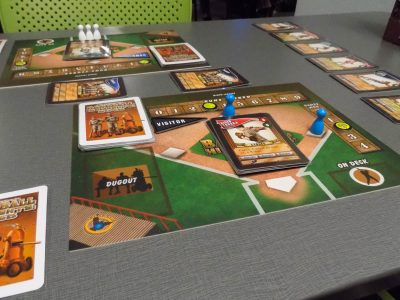 This game is a favorite for a number of our staff and students alike. Combining the worlds of tabletop gaming and sports, Baseball Highlights 2045, or "Robot Baseball" as it is colloquially called here, creates an experience that encompasses the theme fully, while also creating a unique and engaging competitive experience as the same time.
Our latest game was a short series between New York and Los Angeles. The first game was a easy pick up by the Los Angeles player. In the draft, New York quickly grabbed a new robot player "See Ya" to add a solid home run ability to their strong ability to hit base runs. Los Angeles saw that draft coming, and picked up Daisuke Darvish, the cyborg pitcher from Texas to counter act the new batting talent. The second game was a low scorer for both sides. The fielding game was a strong one, between glove cards and pick offs, few runners were brought in. Los Angeles pulled the "W" again. Trying to extend his hitting ability, Los Angeles picked up the Robot hitter "Wiffle" from Seattle, while New York countered with cyborg pitcher Hideo Tanaka from Cleveland.
In the end, New York only pulled one game win in the series before Los Angeles pulled their fourth win to clinch the series.
In all, Baseball Highlights 2045 is a solid 2 or 4 player head-to-head game that brings sports fans to the tabletop gaming world, and vise-versa.

We would like to thank Eagle-Gryphon Games for this great donation.
If you would like to give Baseball highlights 2045 a try, or another selection from Eagle-Gryphon Games, they are available for check out here, at the UNT Media Library.