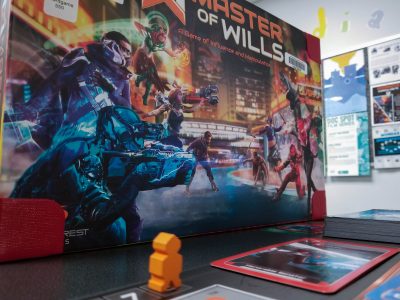 The world has fallen into chaos. Constant wars and the political machinations of many corrupt powers has pulled the world into a perpetual competition. Ultimately, power still lays in the hands of the community, but who can hold the ever-changing support of the masses? None can escape the push and pull from the Factions, vying for power, not the eSports Hero, Fundraising Socialite, nor Judicial Examiner.
This week we played Master of Wills by Stormcrest Games.
Stormcrest Games's first title, Master of Wills takes place in a distant future, where power is controlled by a collection of Factions, who are in constant war with one another for dominance.
Master of Wills is a 2 or 4 player game that functions off of a tug-of-war system. Each player or team of two takes on the role of one of the Factions vying for power. Each round, players recruit unaligned members of the community, and use their influence to effect the community around them. Each faction constructs a deck of action cards, from which they play additional faction powers to further effect the board state. The game lasts for eight rounds. At the end of the eighth round, the faction who possess the most influence wins the game.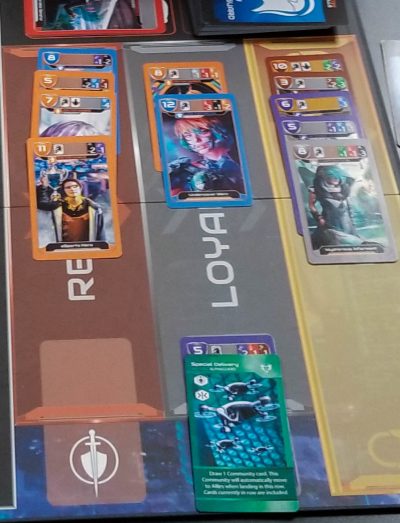 The game is simple, yet intense. The tug-of-war mechanic establishes easy gameplay and restricted decisions, but offers enough tactical decision making to bring out some interesting moments. Our 4-player game was very close. Early on, the Alphaguard was able to force a negative influence community member into the allies of Razorcorp.
As play progressed, Razorcorp answered by pulling a number of high influence community members, while Alphaguard established a strong engine for pulling activists to their allies. The push and pull continued leaving both sides very well matched. On the last round, Razorcorp took a risk by bringing the Energy Dancer into their ranks, pulling three high influence cards closer to their side, but accepting four negative influence into their allies. In the end, Alphaguard could not respond and Razorcorp won.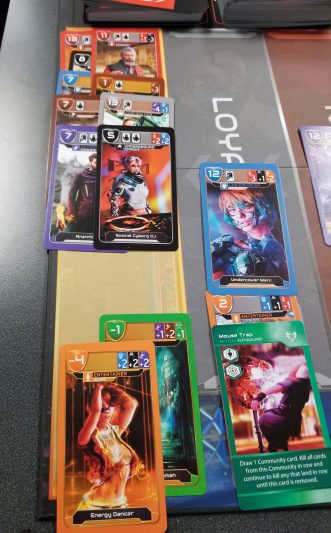 Despite some early misgivings concerning what appears to be a complex game, all of our players thoroughly enjoyed the game. The general simplicity to the decision-making within the game overcomes what appears to be a complex card game, allowing for non-gamers entry into the fan base. At the end of the game, two of our players were excited to take it home and play with friends and family.
We would like to thank Stormcrest Games for this great donation.
If you would like to play Master of Wills, it is available for check out here, at the UNT Media Library.