The state of Texas has a rich, sometimes controversial, but always fascinating history, a variegated geography, and a multifaceted culture that brings together many traditions and experiences. Here are some of the most valuable and easily-accessible resources for learning about our state.
The Portal to Texas History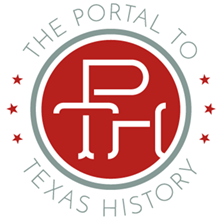 The Portal to Texas History is a collaborative program that provides students, teachers, researchers, and lifelong learners with free online access to a plethora of rare, historical, and primary source materials held by participating libraries, museums, archives, historical societies, and private collections throughout the state of Texas. Ceaselessly growing, the Portal contains well over thirteen and a half million digital files and receives close to one and a half million hits every month.
Here you can find digital reproductions of every kind of historical treasure: not just books and other documents, but also photographs, maps, letters, newspapers, and miscellaneous realia such as Texas trade tokens.
Within the Portal, the Texas Digital Newspaper Program (TDNP) provides free access to a wide variety of Texas newspapers, some of which date back to the early nineteenth century. This resource has proved invaluable to researchers, librarians, teachers, students, genealogists, and history buffs.
The Portal's Resources4 Educators pages provide lesson plans and other educational materials that comply with the Texas Essential Knowledge and Skills (TEKS) standards established by the State Board of Education. Many items from the Portal that are especially relevant to students and classroom teachers are highlighted here.
The Handbook of Texas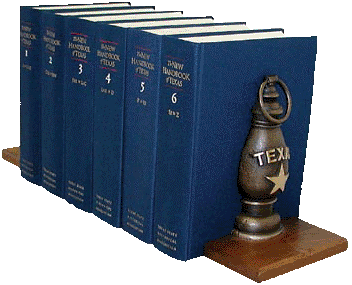 This multidisciplinary encyclopedia, published by the Texas State Historical Association (TSHA), is the most comprehensive and authoritative single-stop source of information on Texas history, geography, and culture. You will find the entire history of Texas contained here, from the prehistoric era to the modern age, woven together in a compelling drama about our state's diverse population and the roles Texans have played on the state, national, and world stages.
In its earliest form, The Handbook of Texas was a two-volume encyclopedia developed over twelve years and published in 1952. Conceived by the eminent historian and TSHA president Walter Prescott Webb, it was a joint project of the TSHA and the history department at The University of Texas, where Webb was also a faculty member. The primary responsibility for directing and editing was assigned to H. Bailey Carroll, who was the associate director of TSHA and also a faculty member at The University of Texas. A third, supplementary volume was added during the U.S. Bicentennial in 1976.
The New Handbook of Texas was published in 1996 after thirteen years of preparation. Representing the combined labor of over 3000 authors, editors, and reviewers, its six massive volumes contain well over 23,000 articles, including detailed histories of every county and all the major cities in Texas and over 7000 biographies of famous and lesser-known Texans. Of particular value is the large amount of information on the African-American and Mexican-American communities in Texas and on the contributions of women and women's organizations to Texas history and culture.
The Handbook of Texas Online went live on the Internet in 1999. It contained the complete text of the print edition of The New Handbook of Texas, with all the corrections that had been incorporated into the Handbook's second printing, plus about 400 articles that had not been included in the print edition because of space limitations. The Handbook of Texas Online contains over 27,000 articles and continues to receive updates as new information becomes available. Each article includes a bibliography of sources and a full citation to the article in Chicago style.
Texas Almanac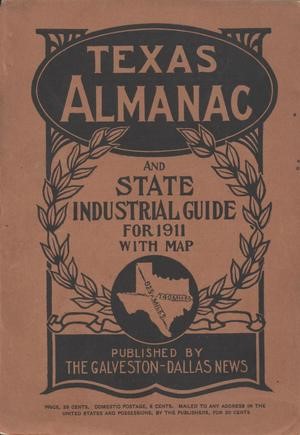 From its first edition, published by The Galveston News in 1857, to its current incarnation, the Texas Almanac has evolved from a series of pamphlets published once a year and focusing on Texas history and the workings of state government to an invaluable quick-reference tool, published in paper and online by the Texas State Historical Association and containing a wealth of data on resources, industries, commerce, history, government, population, and other subjects relating to the political, civic, and economic development of Texas.
An archive of Texas Almanacs from 1857 to 2005 is available to the public online and free of charge, courtesy of the Portal to Texas History.
Issues of the Texas Almanac from 2010 to the present are available online through a subscription service or at various public and college libraries, including the University of North Texas Libraries.
Paper copies are also available at various public and college libraries, although the specific holdings will vary by institution, and a library's set of paper copies may have several gaps.
The title has varied somewhat over the years, making this resource rather tricky to look up in a library's catalog, since it may be spread over several records:
Would You Like to Know More?
Contact the UNT Eagle Commons Library in Sycamore Hall if you would like more information about how to use the paper copies or the online versions of these invaluable Texas informational resources.
Article by Bobby Griffith.