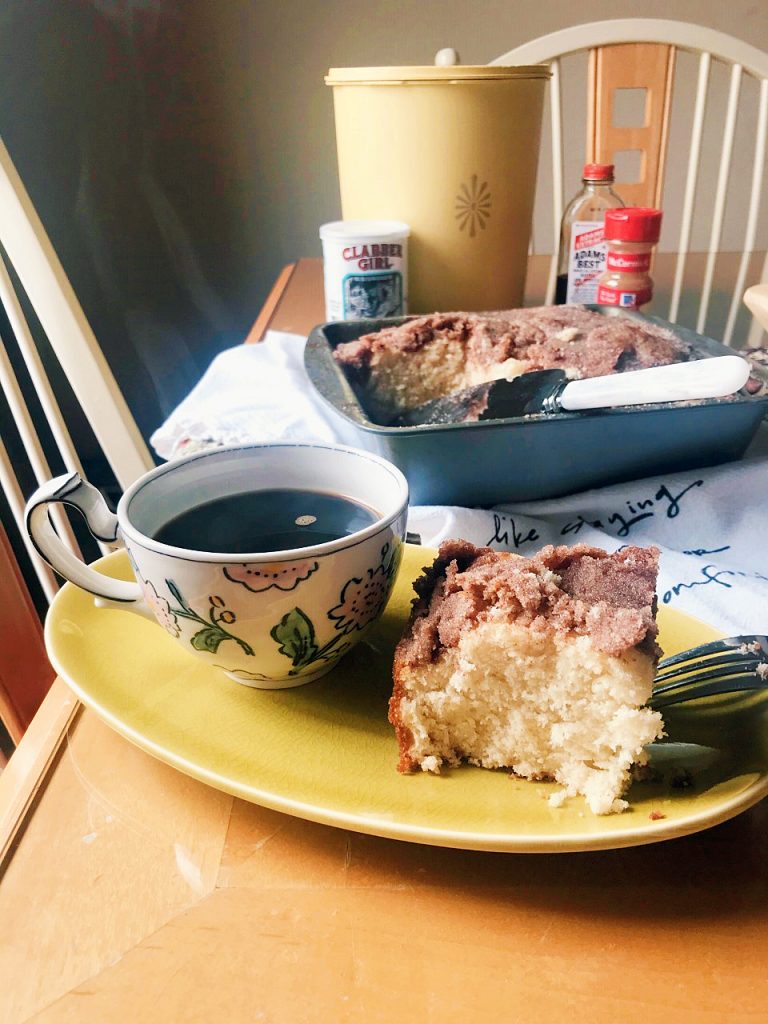 ---
Mark your calendar and raid your pantry, because April 7th is National Coffee Cake Day. For those of us sheltering at home and feeling a little nostalgic for our days on campus, baking up this 8×8-inch cake is the perfect nod to our UNT culture and an excellent accompaniment to our next virtual coffee break.
Mention coffee cake on campus today, and most students will picture the confections sold at Starbucks locations. However, if you search back issues of The North Texan alumni magazine—or even Pinterest—you can find a copy of a coffee cake recipe that brings waves of nostalgia for UNT alumni going as far back as the 1950s.
A Little History
In 1952, the first permanent Union Building at North Texas State College—as UNT was then known—was only three years old. It was called the Student Memorial Union Building, named in honor of the North Texas students who had given their lives in World War II. The cafeteria was not making a profit, as had been hoped, and so the campus foods director, Sadie Mae Bass, decided, along with her staff, to shut the cafeteria down.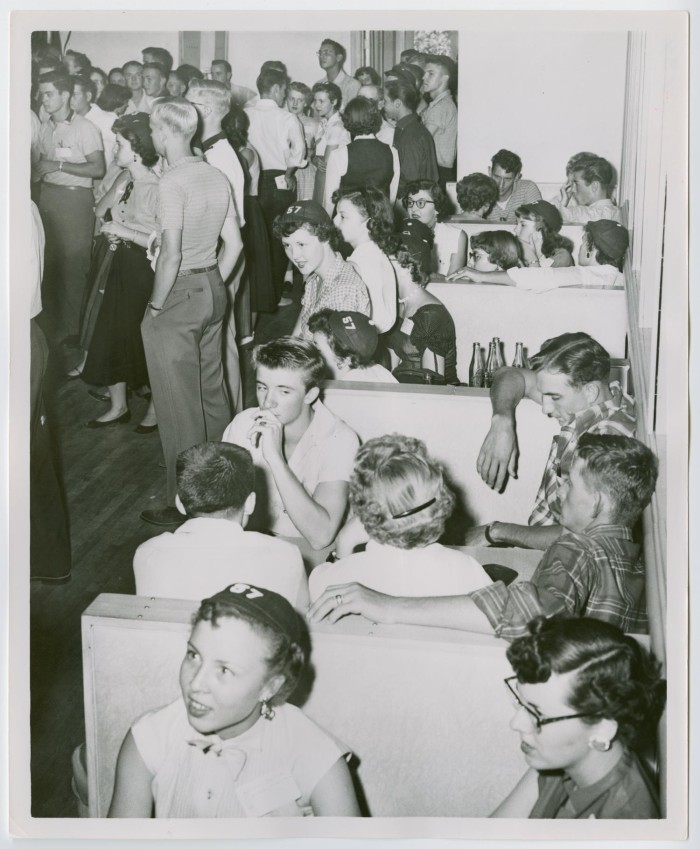 The facility was offered to the Institution Management classes to use as a laboratory. Because they wanted to keep it open for morning and afternoon coffee service, someone came up with the brilliant idea of selling some sort of coffee cake or hot bread to serve with the coffee and help with the expenses. Students in Marguerite Ross Armstrong's home economics classes obtained a plain coffee cake recipe from Albertine Balsmeier, the dormitory dietician, and baked that as well as a dark, fruit-filled cake called bishop's bread. The bishop's bread has been lost in the corridors of time, but the UB [Union Building] Coffee Cake, as it was christened, was an instant hit and remained popular for over half a century. At one time it was even suggested that you could snag a husband just by implying that "you have the recipe for UB coffee cake and make a better coffee." In the beginning the student bakers produced as many as twelve large cakes a day, but eventually they scaled back in order to diversify the menu with donuts and other pastries.
The Recipe
You can read the story and the original recipe in the June 1971 issue of The North Texan. The recipe was very slightly modified over time, and some bakers added their own personal embellishments. Here is the latest version of the complete recipe, as reprinted in the Spring 2004 issue of the The North Texan: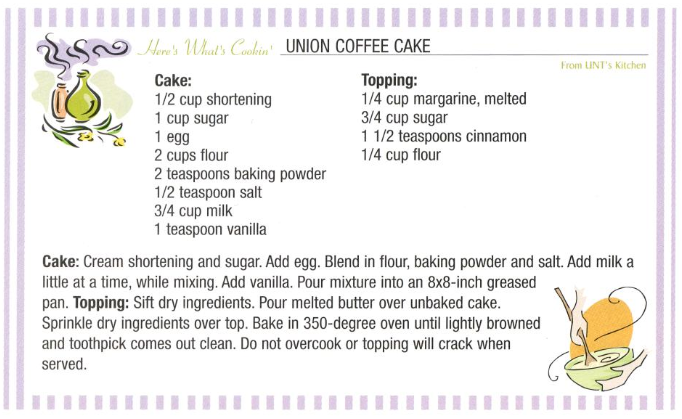 We mixed up this treat to try for ourselves and to imagine the days of UNT gone by.
The cake ingredients are fairly simple, and it would be easy to make a vegan version by finding an egg substitute.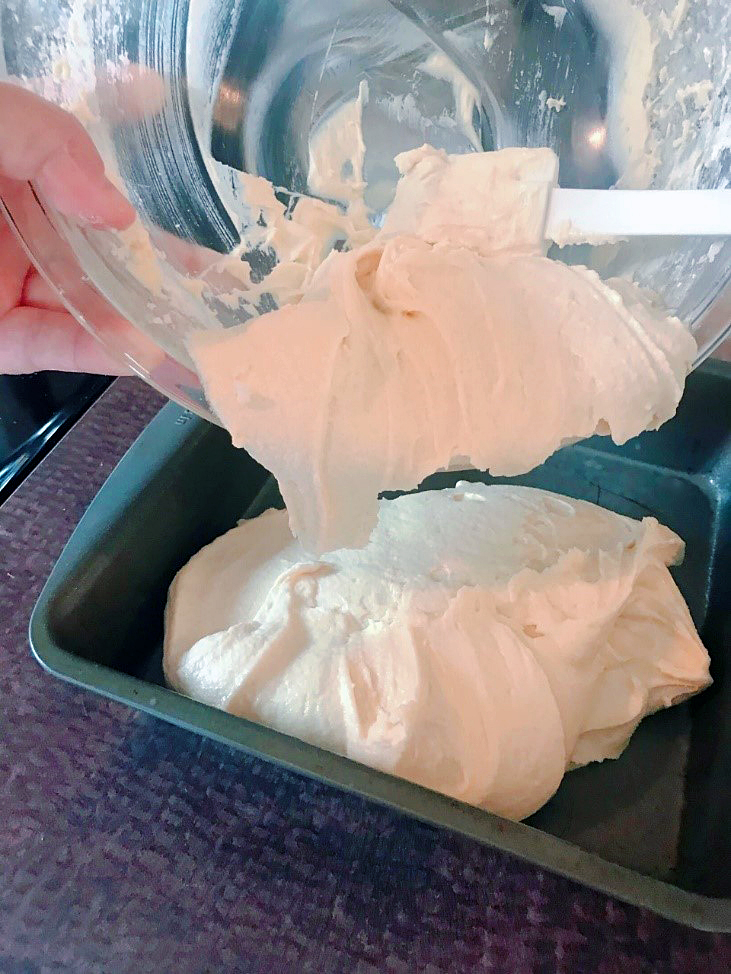 The latest version of the recipe does not list a specific baking time, but it does say if overbaked, the topping will crack when cut. (In our experiment, we found this to be true!) We recommend starting with around 20 minutes and then checking every few minutes afterwards to find the ideal bake time. Interestingly, the earlier version of the recipe recommends baking the cake for 40 minutes. Perhaps someone found this timing unreliable and decided to leave it to the cook to determine when the cake is ready.
Yet in spite of our cracked topping, we still found this to be a delicious accompaniment to a steamy cup of coffee for a mid-morning snack. The topping is a different take on a streusel topping—easy and tasty, but with the same cinnamon and butter flavor. It was an easy and satisfying treat baked as is, although we wouldn't say no to the addition of a ribbon of cinnamon in the middle of each piece. Baker Harold Wren, who was responsible for baking the Union Coffee Cakes in the early 1970s, would create a marbling effect by mixing some of the topping into the batter before brushing butter over the dough and adding the rest of the topping. Yum!
Popular at School, but Perfect for Home
Since it makes a small cake, this recipe is perfect for current events such as self-isolating and sheltering at home. We hope that you, like Jane Austen, are enjoying the comforts of home during these strange and disorienting times.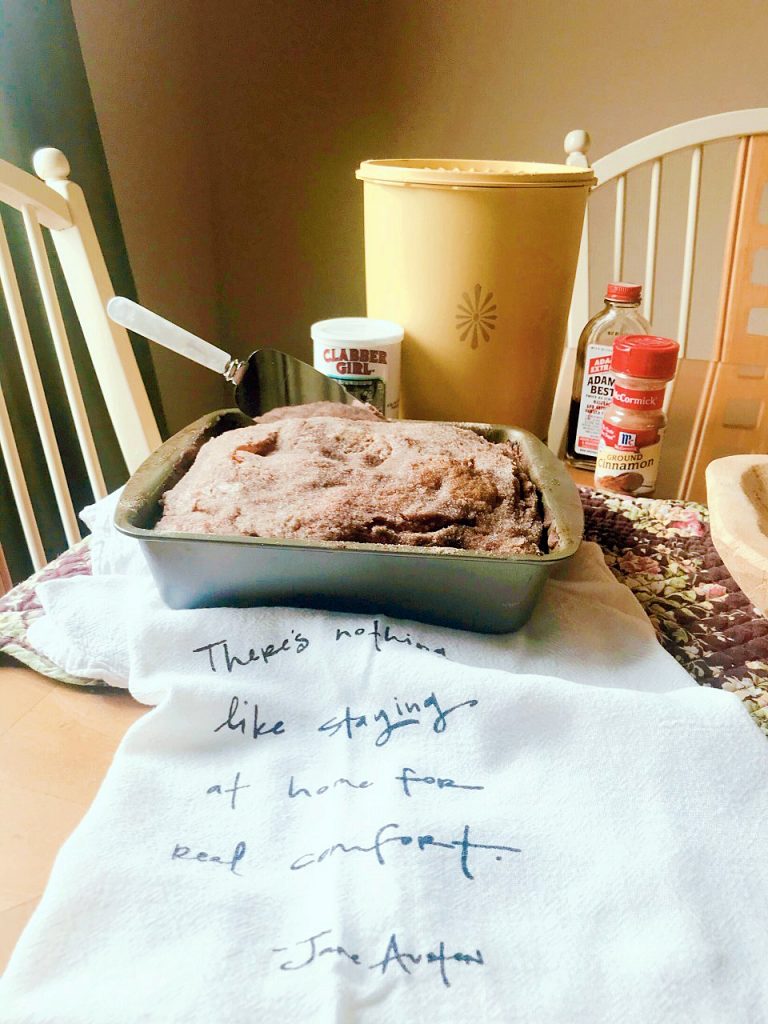 However, since this is a simple recipe, we are confident you will quickly learn to bake the perfect Union Coffee Cake, and when we gather together again, you will have your friends swooning over your results.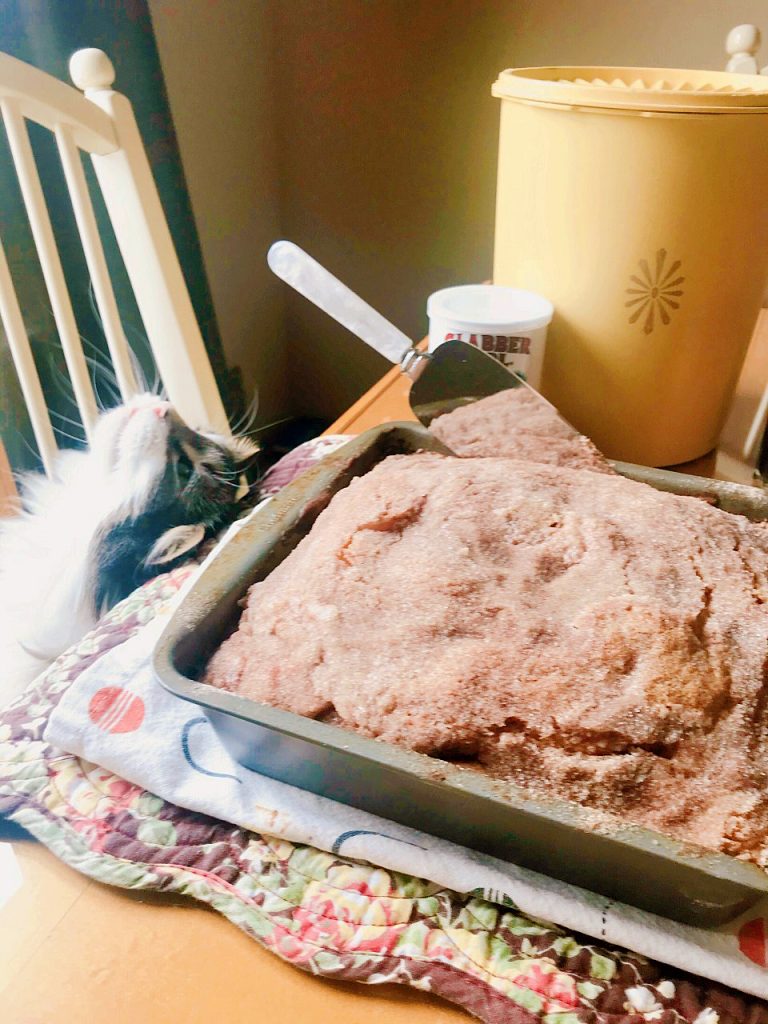 Would You Like to Know More?
For more nostalgic recipes and baking tips see: Homemade Bread, Cake, and Pastry, a Farmers' Bulletin from 1940.
For more UNT nostalgia, view past issues of the UNT yearbooks and newspapers via The Portal to Texas History.
Article and coffee cake photos by Erica Kaufman.
Photo of the Student Memorial Union Building from the UNT Digital Library.